Where it all began
Our history stretches back to Elgin in 1978 when Highland Galvanizers was established. The land chosen to build the factory on was used as an army barracks during the Second World War with the actual galvanizing bath being located on the site of the old parade ground.
The vision of the 2 founders was to establish a galvanizing facility that would provide a valuable service to the burgeoning oil industry. The initial set up was aided by Scottish Development Agency (SDA) funding. The plant was opened in May 1978 with a select group of dignitaries invited to view the first piece of metal being processed through the zinc bath. Having not got the required shot the photographer asked for the steel to be re-dipped which resulted in a few zinc splashes reaching some of the assembled guests – thankfully no-one was injured but it was interesting to see the variety of Italian fashions that the dignitaries were wearing – according to their expense claims! It's a good thing that health and safety is so prominent in present day galvanizing.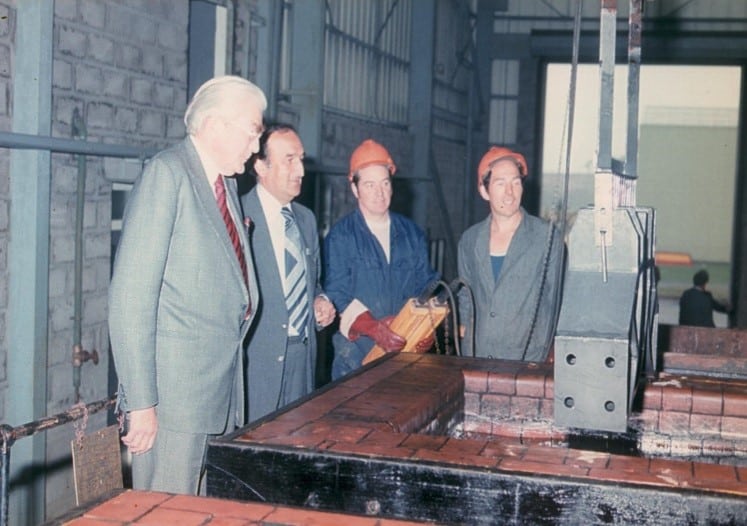 Douglas Ashmead (centre) and Lewis Robertson (left) of the SDA inspecting operations in 1978
Although the oil industry volumes never came to much, Highland's galvanizing service was soon in demand from a range of different industries, such as construction, fish farming and whisky distilling to name but a few.  Soon the SDA loan was repaid and the length of  galvanizing kettle was increased from 6.5m to 8.5m, and then to 10.5m as the volume of work gradually grew.
Throughout the 1980s and 1990s the company experienced a period of sustained growth and by the approach of the millennium was transporting large volumes of steel up and down the A9.  To enable this growth to continue  the decision was taken to build a second plant to service central Scotland and beyond. A site in Cumbernauld was selected and in 2002 Highland Colour Coaters opened. In addition to galvanizing the new factory also offered a state of the art powder coating line to add colour to galvanized steelwork. In 2012 the Cumbernauld factory was extended to allow workflow improvements and provide modern office facilities for staff.
Highland Colour Coaters first galvanizing kettle being lifted into place in 2002
Nearing our 40th birthday we are proud to look back at the many important projects that we have been involved with over our history. These include the Scottish Parliament, the Edinburgh Tattoo, Roseisle Whisky distillery, Glasgow's 2014 Commonwealth Games, the Cairngorm Funicular Railway, the SSE Hydro, Murrayfield Stadium, the Edinburgh Trams, the Lanark Mart, the new Queensferry Crossing, the Kelpies project and many more. Hopefully the future will allow us to add to this prestigious list.